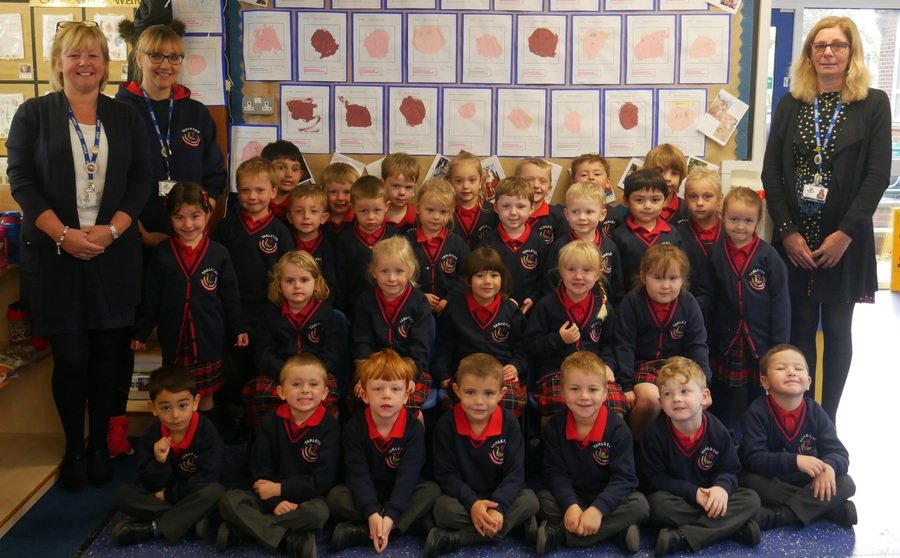 In Reception you will find the children in Violin and Viola classes, you will also meet Mrs Walmsley, Mrs Russmann, Mrs McCallum, Mrs Cookson, Mrs Brown, Miss Latham and Mrs Lear.
The children in reception love to learn and we do it best through our play. We always have lots of opportunities to learn whether we are playing indoors or outside.
When we start in reception there are lots of things that we can't do...however, we quickly learn a new magic word...YET! "I can't fasten my coat...yet." Thanks to this brilliant word our brains are constantly growing.
To find out more about how your child will be assessed during their reception year click here to access the government Development Matters document. For our curriculum theme overview click here.
Newsletter
Each half term we produce a newsletter to keep you up to date on what's happening in Reception. Click here to access this half term's newsletter.
Graduation
We ended our Reception year with a wonderful Graduation ceremony.
Here is a copy of our wonderful 'Year in Pictures' video for you to watch over and over again!
Making Bread
As part of our food and farming theme we've been making bread. It was really good fun mixing the dough and kneading it, we even made it into a plait with a little help from Chloe! The best part was eating it!
Potatoes!
We've been growing our own potatoes over the last few months. We've been carefully watering them and Mrs Walmsley finally said it was time to dig them up! We had great fun searching in the mud for them, it was a bit like treasure hunting! The best part though was eating them. :-)
Mr Anwar
We had a visit from Mr Anwar a member of the Muslim community. He came to tell us all about his religion.He talked to us about how it is great living in Lancashire as we get to meet people from lots of different faith communities. He also likened us to smarties -different outside but the same on the inside!

He talked to us about his religion - what he wears and how he prays. It was very interesting.He even taught us how to say the first 6 letters of the Arabic alphabet.
Sports day
Tuesday the 18th June was our Sports Day.
We had a wonderful time running, skipping, bouncing, jumping, dressing up, dribbling balls and running with our egg and spoon. We all did really well and had lots of fun.
Summer 2 - Food and Farming
Windmill Farm Trip
To launch our new theme of Food and Farming we went on a school trip to Windmill Farm. We had a wonderful time learning about some of the animals. We found out that a male goat is a Billy and a baby goat is a kid. We also learnt all the names for the other animals we saw. We fed goats, llamas, alpacas and even bottle fed some lambs. We also has the opportunity to go on the train, see some snakes (and hold one if we were brave enough!) and play in the indoor and outdoor pay areas.
Inflatable challenge
On Thursday 23rd May we had an inflatable obstacle course come to school. We had great fun and scored lots of points for our house teams.
Forest Schools
We are very lucky and we are going to Tarleton Academy to enjoy their Forest School area. !4th May was our first session and we had a fabulous time learning the rules, playing hide and seek and digging in he mud.
We made a fire and toasted marshmallows
This half term we will be learning all about mini-beasts. We will have our very own caterpillars, tadpoles and worms to observe and we will be reading lots of mini-beast related stories.
Beautiful Butterflies
We have been learning about the life cycle of a butterfly and have been lucky enough to be able to observe our class caterpillars grow and change over the past few weeks. We were very excited when we noticed our first butterflies had come out of their chrysalis - we even got a video of one of them coming out.
Worms
We made a home for worms. It is called a wormery.
We also found lots of interesting work facts about worms. Did you know that worms don't have eyes, ears or noses? They breathe through their skin and like to live in dark moist soil.
Easter Egg Hunt!
On the last day of term we had a special visit from the Easter Bunny. Whilst we were in assembly the Easter Bunny came and hid lots of Easter goodies in our playground. When we came back from assembly we went outside and went egg hunting! It was great fun. Afterwards we went inside and made Easter cones to put our goodies in. Yum!
Visit to Tarleton library
As part of our traditional tales theme this half term, we went on a visit to Tarleton Library. We were able to look at lots of books and heard a story. We found out that if you have a library card you can borrow up to 20 books and take them home for up to 3 weeks.
Learning about Easter
We were very lucky and got to go to visit Hesketh Bank Christian Centre to learn about the Easter story. We helped to act out the story by being disciples and guards; joining in with the last supper,praying in the garden and putting Jesus in jail and then in the tomb.
We also played some games, coloured pictures and had a drink and a biscuit. What a lovely way to learn about Easter.
Happy Mother's Day!
We have been working hard all week on poems and pictures ready for our Mother's Day assembly. The assembly started with pictures we had drawn of our mums - they are very realistic...see if you can spot someone you know, or even yourself!
We used nice clear voices to read out our work and sang two lovely songs. We finished the assembly by giving our mums a flower.
World Maths Day 2019
Monday 11th March was World Maths Day. We spent the day enjoying lots of maths activities. Mrs Smith gave us a problem to solve involving bowling. We had to work out different ways that you could score 5, 6 or 7 using numbered skittles from 1, 2, 3, 4. We could only use each number once but our numicon really helped us to work out the answers.We also had a special visitor, Mrs Brooks (our maths governor)came to do some maths challenges with us. I
We also learnt about doubles using our numicon again. We learnt a song about doubling and solved some doubling problems.
Traditional Tales
This half term our theme is Traditional Tales. We will be reading lots of different traditional tales over the next few weeks; including The 3 Little Pigs, The Gingerbread Man, The 3 Billy Goats Gruff and Jack and the Beanstalk.
World Book Day 2019
Thursday 7th March was World Book Day. We all came to school dressed as a character from a story book and some of us even brought in a book to donate to the school library. We had a wonderful day hearing lots of traditional tales and in the afternoon some of our parents came in to share a story with us.
3 Little Pigs
We listened to the story of the 3 Little Pigs and then we used the puppets to act out the story in little groups. We were very good at the voices and the repeated refrains.
We decided that the pigs needed a little help building their homes so we had a selection of materials to choose from to build houses for them. The materials included lego, straws, marshmallows, foil, paper and sticks.
We could only choose 3 items. We are very proud of our creations!
We tested our houses to see if they were wolf and rainproof.
Chinese New Year
We have been learning all about Chinese New Year. We listened to and acted out the story of The Great Race and how the animals were chosen for the Chinese zodiac. We made lanterns, dragon masks and even tried some Chinese food.
Safer Internet Day 2019
Tuesday 5th February was Safer Internet Day. In reception we have been learning about what the internet is and how to stay safe online. We had great fun making our own communication system and answering questions about what to do online if unsure. We heard a great story with Buddy the dog, who taught us to 'ask a grown up'.
Fun in the snow!
This morning when we woke up it had snowed! Whilst we were busy at work it started to snow again so we got our coats and hats on and rushed outside to enjoy it.
Fire Engine Visit!
We were very lucky to receive a special visit from our local fire engine and fire fighters. We learnt to call 999 in an emergency and how to 'Stop, Drop and Roll' if we were ever in a fire. We all got to sit in the fire engine and use the hose. Some of us even tried on the fire fighter's helmet!
Aeroplanes
We had great fun making and flying our aeroplanes.
Boats!
Over the last two weeks we have been learning about boats. We have talked about the different types of boats and the materials they are made from. In small groups we then designed a boat, made it, tested it and evaluated it. The children were able to say what they liked about their boats and what they would change to improve them. All our boats floated!
Junk Models Galore!
We asked our children (and parents) to get creative for their homework this week by making a form of transport out of junk modelling. Here are their amazing creations!
Busy with Tizzy!
In our technology lessons we have been learning about some of the parts of a PC such as the mouse, the keyboard and the monitor. We have been practicing our mouse skills through a program called Tizzy's busy week.
Racing cars
We received a letter from Mike the Mechanic, his friend Rory the racing car thought that cars go faster down little hills whereas he thought you needed a big hill to go fast. We set up an experiment to see who was right. We made predictions and tested them.
Naughty Bus
We read the story of The Naughty Bus. He gets up to lots of mischief such as driving through dinners, knocking over cups and squeezing toothpaste out of the tube.
We made up some of our own adventures for the Naughty Bus and acted them out. Our stories were about being chased by animals, playing in the paint, getting stuck in the mud, a pirate adventure, playing in the dinner and being arrested by the police.
Mini Wheelers
As part of our transport theme we have been fortunate enough to have access to balance bikes. Every Tuesday morning this half term we get to practice gliding, balancing, steering and pushing with our feet to improve our cycling skills.
Hindu Festival of Holi
We learnt about the Hindu festival of Holi. During the festival people go out into the streets and throw paint and it goes all over them. We threw paint onto paper and it made splatter patterns. It was great fun.
Autumn 2
Colour and Celebrations
Christmas Party time!
As it's our last week in school before breaking up for Christmas we had a Christmas party! We had great fun dancing along to Go Noodle dances; playing games such as corners, Musical statues and musical bumps. We also had a visit from the big man himself - Santa! He came along to say hello to us all and gave all the classes a present. Thank you Santa - see you soon!
Christmas Nativity Play - Christmas Counts!
This year the reception children and Tiny Treasures put on a performance of the nativity play called 'Christmas Counts'. The children were all wonderful and sang their little hearts out. I think you'll agree that they all looked gorgeous in their costumes!
Colourful foods
We've been learning about instructions in our literacy lessons and to help us understand them we have been following instructions to make fruit pizzas and jam sandwiches! We had great fun making both, we had to make sure we had everything we needed first, then follow the instructions carefully. We learnt all about how bossy words are used in instructions.
Open Morning
We had an Open Morning and invited parents and children to visit our school to see if they would like to be in our Reception class next year. We had to tidy all the leaves in our playground ready and then show everyone how nicely we share and play with each other.
Everyone had a fantastic time and we shared with the little children and even let the mummies and daddies join in.
Anti-Bullying
To mark the start of anti-bullying week we all wore odd socks for the day - because it's OK to be different!
In reception we heard stories about children who wouldn't play with other children because of the colour of their hair, or the clothes they wore...they weren't very nice! We talked about the importance of sharing when playing and not leaving anyone out. We then went of to play nicely together trying hard to remember to share and to be kind.
Remembrance
We have been learning about Remembrance day and why we wear poppies. We have made poppies using lots of different materials and media - including painting, drawing, ICT and cutting. We also made a poppy wreath using the hand-prints of everyone within EYFS.
Clean Plate Challenge!
As part of our work for Remembrance Day, we looked at some posters from the Second World War. They had slogans on them such as 'Make do and mend' or 'Grow your own'. We talked about the fact there wasn't much food about during the war and people were told not to waste food. We then talked about how there are still lots of starving people in the world and that it was still important not to waste food. We then decided to have a 'clean plate challenge! The parents sent in photographs of clean plates at dinner time and we tried really hard to only take what we would eat at lunchtime in school, and then eat it all up. Take a look at how well we did!
Just Playing!
Some of the best learning is done through play, and best of all we don't needs lots of expensive toys to do it! Look at what we can do with a few crates, tyres, planks of wood and our imaginations.
Halloween Fun!
We used some card and pipe cleaners to make pumpkins today! We had to concentrate really hard to do the threading, but we were really proud of the finished results.
We also made some spooky spider biscuits...
Countryfile Ramble
On Friday 19th October we went on our very own Countryfile Ramble. All the children from KS1 and EYFS took part in this annual event. Thank you to all the parents and grandparents who came to help. We will let you know how much money we managed to raise once we've collected it all in.
Sense of smell
We explored our sense of smell by wearing a blindfold and trying to guess what things were in the cups. We got to smell orange, banana, mints, vinegar and cheese and onion crisps. The crisps were very tricky to identify.
Listening Ears!
As part of our Ourselves theme we've been learning about our senses. We made giant listening ears and then played listening bingo. We had to identify lots of different sounds such as a microwave, a phone, coins in a tin and a doorbell.
Our first day at school
We started school on Wednesday 5th September. We all looked very lovely in our brand new school uniforms. Take a look at our pictures and see for yourself!
We are famous
In our first week at school the Lancashire Evening Post came to take our photograph and put us in the paper. We think we looked very smart.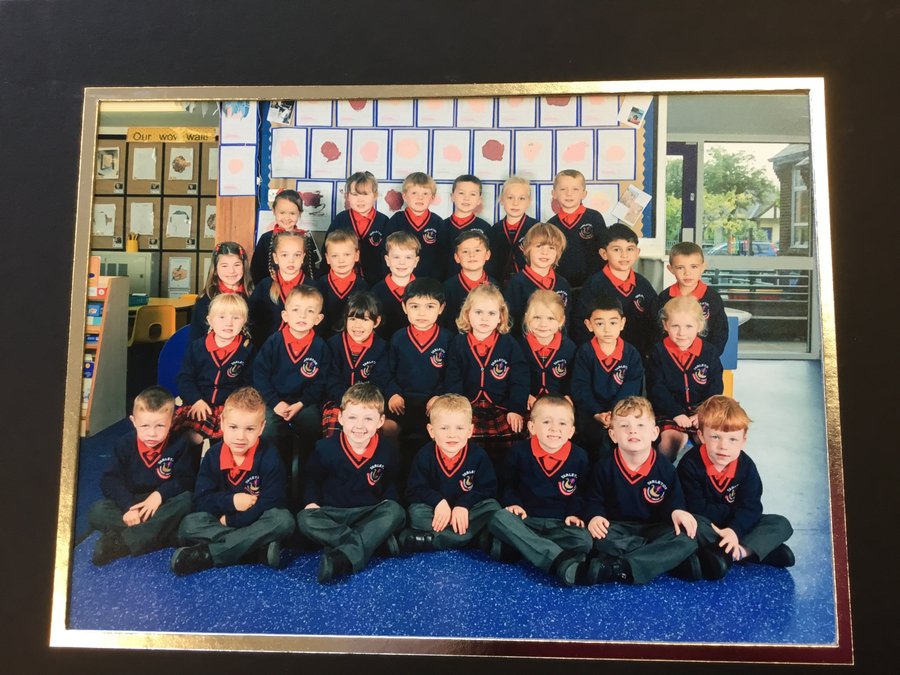 Baby Deia's Visit
On 26th September we had a very special visitor to our class. Baby Deia came to see us, she was only 8 weeks old. We talked about how we have changed from when we were babies to now. We asked Deia's mummy lots of questions and found out that she can't walk or talk, she needs help to feed and change her nappy and she is very wiggly.