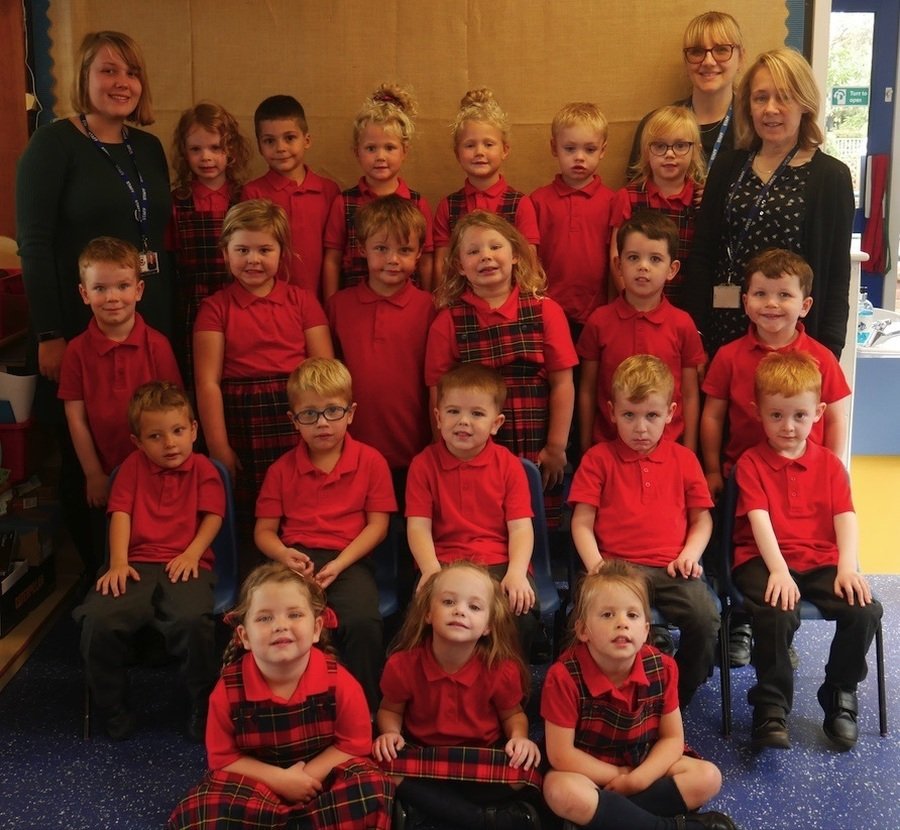 In Reception you will find the children in Violin class, you will also meet Mrs Russmann, Miss Latham, Miss Radcliffe and Mrs McCallum
The children in reception love to learn and we do it best through our play. We always have lots of opportunities to learn whether we are playing indoors or outside.
When we start in reception there are lots of things that we can't do...however, we quickly learn a new magic word...YET! "I can't fasten my coat...yet." Thanks to this brilliant word our brains are constantly growing.
To find out more about how your child will be assessed during their reception year click here to access the government Development Matters document. For our curriculum theme overview click here.
Newsletter
Each half term we produce a newsletter to keep you up to date on what's happening in Reception. Click here to access this half term's newsletter.
Lock-down videos!
Please find below some of the stories, songs and videos that I have posted on Dojo. Hope you enjoy them and that they are useful to you.
Spring 2 Theme - Traditional Tales
World Maths Day!
Today, Monday 9th March, has been World Maths Day and so to celebrate we have been doing lots of maths activities all day! We learnt two new mats games, one called Yoikes and one called 10 interesting things. We had great fun playing these games. We also did lots of other maths activities such as number pyramids and domino numbers.
World Book Day 2020
Thursday 5th March was World Book Day. Our theme this year was 'magical' and our class book was Room on the Broom by Julia Donaldson.

The children loved coming to school as a book character. We did lots of activities throughout the day based on our class story and at 3pm some of our parents came in to share a story with us.
Perfect Pancakes!
On Tuesday 25th February it was Pancake Day. We made vegan friendly pancakes using gluten free flour, coconut milk and egg replacer. The children then had to choose from 4 yummy toppings; strawberry sauce, chocolate sauce, toffee sauce or traditional lemon and sugar. YUM!
Spring 1 Theme - Transport
Pirates Ahoy!
As part of our transport theme the children became interested in pirates, so we decided to have a pirate day, read lots of pirate stories and learn a little bit about them too!
Safer Internet Day 2020
Today the whole school has been learning about how to stay safe on the Internet and how to protect our identities. In EYFS we have thought about what the internet is and what we use it for. The children were amazed at how much we rely on the internet.
We made our own communication system using cups and string. The children had great fun using them to pass secret messages. They found that they worked best if the string was tight.
We also read the story of Smartie the Penguin, who had to learn how to stay safe on the internet when using his tablet. Click here if you would like to read the story.
Junk Model Boats!
As part of our transport theme we have been learning about different types of boats and what they're made out of. We then designed and made our own boats. It was great fun testing them, only 2 didn't float but we soon made some adjustments so that they did.
Bush-tucker Trials for Australia!
Children were invited to come to school in their own clothes in exchange for a pound towards the bush-fires in Australia. The children were also invited to take part in a bush-tucker trial for a further donation of 50p. The children had great fun and they knew, thanks to a very informative assembly by the Eco Committee, that the money was going to a good cause.
Transport Junk Models
To mark the start of our new theme the children were all asked to make a junk-model transport vehicle for their homework. The children and their parents have clearly put lots of effort into making them and the children are very proud of their creations.
Chinese New Year - Year of the Rat!
In our theme and literacy lessons this week we have been learning all about Chinese New Year. We have read and acted out the story of The Great Race, where a long time ago the Jade Emperor decided that he needed a way to measure time and so decided that the animal should have a race to have 1 of 12 years named after them.
We also found out about different traditions and customs; such as cleaning your house before new year to sweep out the bad luck. We've also been making Chinese drums and lanterns.
Happy Holi!
Our RE theme this half term is Hinduism. We looked at the festival of Holi and enjoyed recreating it in a less messy way - we thought our grown-ups might not like us throwing paint over each other!
Autumn 2 Theme - Colour and Celebrations
Elfie-Selfies!
Today we had some fun with a big photo frame and an iPad! As we were wearing our Christmas jumpers, we thought we'd have a bit of fun posing!
Christmas Dinner
On Friday 13th December we had our first Christmas dinner in school. It was good fun, the tables had been decorated and our teachers all came into the hall to help us and sit with us.
Whoops-a-Daisy-Angel
This year, Tiny Treasures and Violin Class put on a performance of Whoops-a-Daisy-Angel. The children were brilliant, singing and dancing their way through the play and they all looked wonderful in their costumes.
Snowman Selfie Masks!
In our literacy lessons we have been learning about instructions. We had to carefully follow the instructions, in order, to make our masks. We think they look great - what do you think?
Enterprise Week
In the run up to our annual Christmas Fair, each class is asked to plan, make and evaluate products that they can then sell at the Christmas Fair.
This year we decided to make keep sake boxes. The children all planned what they wanted their boxes to look like and then set about making them.
As you can see from the pictures below, they were very proud of their work, and rightly so!
We also made some handmade baubles and ran a 'snowman smash' stall (a bit like tin can alley but with snowmen!). We ended up making over £200 profit!
NSPCC Obstacle Course
A few weeks ago we had a visit from Buddy and his friends from the NSPCC. They talked to us about all the good work they do and how they can help children who are in need of help. Today, Monday 18th November, we took part in an sponsored obstacle course to raise money for the NSPCC. We all came in wearing green - just like Buddy!
Bonfire Celebrations
In our literacy lessons we have been thinking of firework words to describe the sights and sounds of bonfire night. To finish our week we decided to have our own (mini) bonfire and toast marshmallows. It was great fun and everyone enjoyed eating them!
Remembrance Day
For Remembrance Day this year we have been learning about the poppy and why people wear one. We even made individual pom-pom poppies to make into a wreath. We also thought about the soldiers who went to war, what it must have been like for them and how brave they were.
We also found out a little about rationing and made our own trench stew based on a World War 2 recipe. The children had to peel all the vegetables themselves and at the end of the day we all tried some. Yum!
Halloween Stay and Play
We invited our families to come and experience life in our class through a 'Stay and Play' session. The children and adults had a wonderful time playing together, making Halloween pictures and masks and looking at books. We even made them all a special Halloween biscuits to enjoy!
Halloween
As we're not usually in school for Halloween, we decided to go all out this week making different Halloween crafts. We made paper-craft pumpkins, paper plate ghosts and moving ghosts in a cup!
On the day of Halloween, we all came dressed up in Halloween costumes - I think you'll agree, we all looked very scary!
Some pictures of our creations.
Our 'spooktacular' costumes!
Autumn 1 Theme - Ourselves
Country File Ramble
On Friday 18th October all the infants children took part in the BBC Country File Ramble event. We bravely set of in the mud and enjoyed a lovely time in Carr Lane Woods. We even found time to hide a book for local children to find! Thank you to all the adults who helped and to all those who have sponsored our children.
Baby visit - it's a girl!
On Monday 14th October Mrs Upton came in to see us with her 4 week old little girl, Amelie. The boys and girls had lots of great questions to ask all about what babies can and can't do. Take a look below at our questions and some pictures of the visit.
Mental Health Awareness Day
On Thursday 10th October the whole school celebrated Mental Health Awareness day. We came to school wearing something yellow in return for a £1 donation which was then given to Mind, a mental health charity.
During the day we learnt about ways to keep our minds and bodies healthy. We did Yoga, breathing exercises and played lots of physical and mental games. We also read a story called Ruby's Worry, which explained how worries get bigger if you try to ignore them, but get smaller if you share your worry with someone by talking to them. We had a wonderful day and now have lots of different strategies for if we feel sad, anxious or angry.
Who's the tallest?
In reception we wanted to find out who was the tallest member of our class. We tried lots of different ways of measuring; using string, cubes and a wall chart. We found the wall chart the most accurate, but we had great fun testing the other ways. At the end of the afternoon we all lined up from tallest to shortest.
Fun with Tizzy
In our computing lessons we have been learning how to use a mouse. We're all brilliant at swiping on a tablet or iPad but found using a mouse far more tricky. We have been using a programme called Tizzy's busy week to help us improve our skills - it's also been great for developing our fine motor skills!
Senses - touch
We had a great time learning about the sense of touch. Mrs Russmann made a special box that we could put our hands into without seeing what was in there. We then had to use texture words to describe what the object felt like. We had some amazing words such as squidgy, soft, smooth, bumpy and rough.
Senses - listening
In our theme lessons we have started learning about our 5 senses. We started off with the sense of hearing by making some listening ears and going outside to see what we could hear. We lay down and closed our eyes so that it sharpened our sense of hearing. We also played listening bingo with sounds such as a running tap, dropping coins, a zip and a hoover.
All aboard the big red bus!
On Monday 16th September we had a big red double decker bus come to school. It was very exciting as we got to eat our lunch on it! We had a yummy lunch of nuggets, crispy potatoes and beans, with orange or apple juice and ice cream for pudding. We even had three lovely Year 4 girls there to help us.