Welcome to Tiny Treasures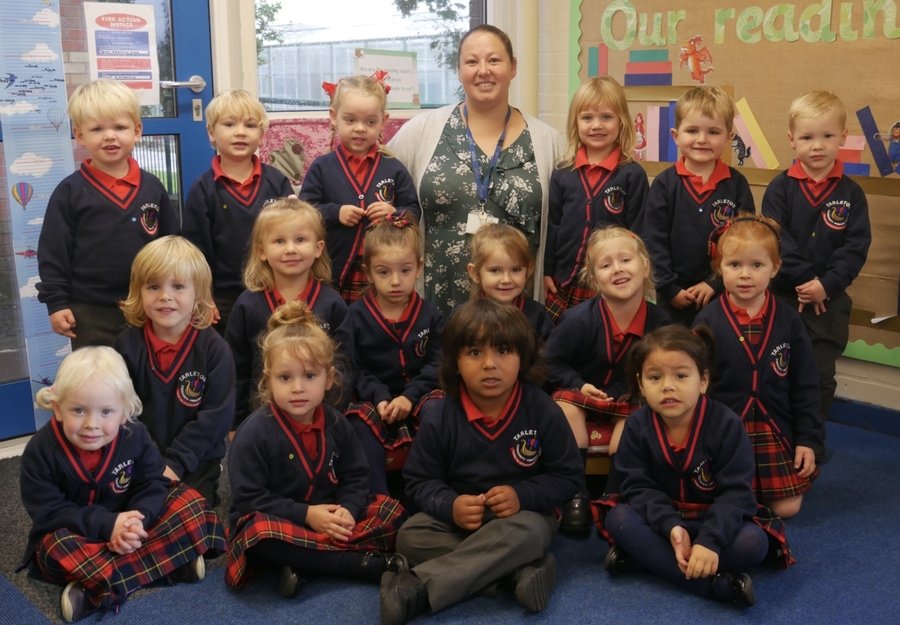 The Tiny Treasures are the youngest class in our school. We share the EYFS area with the Reception class. Here you will find Mrs Rowcroft, Mrs Cookson, Mrs Brown and Ms Lear.
We love to come to school and learn, and we learn best when we are playing and having fun! There are lots of opportunities for us here in the Tiny Treasures.
To find out more about how your child will be assessed during their time in Tiny Treasures click here to access the government Development Matters document.
Each half term we produce a newsletter to keep you up to date on what's happening in Tiny Treasures. Click here to access this half term's newsletter.
Christmas Party
The children had a wonderful time at their first school Christmas party. The put on their party clothes and danced, sang, played games and even met a very special visitor.
Whoops-a-Daisy Angel
The children performed their Christmas nativity, Whoops-a-Daisy Angel for their very proud families. They sang wonderfully and did all of the actions beautifully. What a wonderful way to celebrate Christmas time.
Enterprise Week Activities
The children have been working very hard during enterprise week. We painted and decorated keepsake boxes to keep our treasures and special things in. We also made baubles with a piece of ribbon inside them the exact same size as us- we really enjoyed being measured and making them.
NSPCC Obstacle Course
The children took part in an obstacle challenge to raise money for the NSPCC. Many thanks to everyone who sponsored them to support this amazing charity.
School Disco
The Tiny Treasures enjoyed dancing at their very first school disco!
Toasting Marshmallows
To mark the end of our bonfire night topic the children all had the opportunity to toast marshmallows on the camp fire! The children were very sensible around the fire and really enjoyed eating their special treat.
Sports for Champions
We had a visit from a Paralympic athlete- his name is Ayaz Bhuta and he plays wheelchair rugby. The children were sponsored by their friends and family to do some exercise challenges. They did running, star jumps and skipping to earn their sponsor money.
Remembrance Week
We looked at Remembrance Sunday and poppies- we made pom pom poppies to create a wreath, made 'trench stew' like they might have eaten during the war. We also made poppy collages. We watched a very simple, age appropriate video by CBeebies called 'Poppies' which the children were fascinated by.
Potion Making
We read the story of Room on the Broom in class. The children were very interested in how the witch made a potion in her cauldron. We made our very own magic potions- we used pipettes to carefully mix different coloured liquids in little cups. We tried to predict what colours we might make- we made some beautiful colours.
Halloween Fun
During the run up to Halloween the Tiny Treasures made lots of spooky creations to decorate the classroom. We made ghastly ghosts, collaged spooky pumpkins and made creepy biscuits to share with our families during our Halloween stay and play session.
Country File Ramble for Children in Need
We took part in a sponsored ramble to raise money for Children in Need. We all walked to Carr Lane woods and had a wonderful adventure jumping in the mud, climbing trees and finding lots of lovely Autumn treasures.
World Mental Health Day- 10/10/2019
For World Mental Health Day we spent a day dedicated to our children's well being. We proudly wore yellow to support the charity Young Minds. Some of the activities we took part in include yoga, mindfulness activities and breathing activities. We also played lots of playground games in the fresh air.
Owl Babies Topic
The children had shown an interest in owls after reading a story about owls last week. We have been looking at the book Owl Babies and did lots of owl themed activities. We learnt about night animals and day animals (and even the word nocturnal), we made clay owls and finished the week baking owl biscuits.
Obstacle Course
We worked together as a group to create an obstacle course. We tested it out to see if it was safe to walk across. Once we had decided it felt safe we moved across it in a variety of ways- we tip toed, crawled and marched.
Parachute Games
We went outside into the garden and played some parachute games. We had to use super listening skills so we didn't miss our turn. When our colour was shouted we ran around the circle, we are verygood at recognising colours and running very quickly!
The Big Red Bus
We were very excited to have our lunch on the Big Red Bus. We ate chicken nuggets, diced potatoes and beans followed by ice cream.
Science Day Fun
Lots of the children dressed up for Science Day- there were doctors, vets and even a mad scientist! We did some exciting experiments- we tried to make our own bubble mixture and inflated balloons without using a pump or our mouth!
Teddy Bears Picnic
During our first week of school we decided to share a Teddy Bears Picnic. We counted out plates, bowls, cutlery and teddy bears and shared them with our friends.