Welcome to Tiny Treasures
In Tiny Treasures you will find a group of enthusiastic little learners all aged 3 or 4. You will also meet Mrs Walmsley, Mrs Russmann, Mrs Rowcroft, Miss Radcliffe and Mrs McCallum. You may also see Mrs Cookson, Mrs Brown, Miss Lathom and Mrs Lear.
Sports Day
Today we welcomed lots of our friends and family to come and watch us in our sports day. We enjoyed taking part in lots of different races and games and we even finished the afternoon with a drink and an ice pop.
Forest School
We enjoyed a day out to forest school, we played lots of games, went on a minibeast hunt, built a big den, made some bird feeders and most importantly we loved getting muddy!
Windmill Farm Trip
To launch our new theme of Food and Farming we went on a school trip to Windmill Farm. We had a wonderful time learning about some of the animals. We found out that a male goat is a Billy and a baby goat is a kid. We also learnt all the names for the other animals we saw. We fed goats, llamas, alpacas and even bottle fed some lambs. We also had the opportunity to go on the train, see some snakes (and hold one if we were brave enough!) and play in the indoor and outdoor play areas.
Easter Egg Hunt!
On the last day of term we had a special visit from the Easter Bunny. Whilst we were in assembly the Easter Bunny came and hid lots of Easter goodies in our playground. When we came back from assembly we went outside and went egg hunting! It was great fun. Afterwards we went inside and made Easter cones to put our goodies in. Yum!
Visit to Tarleton library
As part of our traditional tales theme this half term, we went on a visit to Tarleton Library. We were able to look at lots of books and heard a story. We found out that if you have a library card you can borrow up to 20 books and take them home for up to 3 weeks.
Stay and Play Session
We enjoyed welcoming our parents and grandparents into school. We showed them around and showed them some of our favourite things to play with.
World Book Day
We celebrated World Book Day by dressing up as our favourite story book characters. We were Zog, Beast and The Gingerbread Man to name a few. We enjoyed listening to lots of stories and even had some parent visitors to share their favourite stories with us.
Pancake Day
The children helped to make pancakes to celebrate Shrove Tuesday. They even tried to flip their pancakes before choosing delicious toppings and eating them.
Chinese New Year
We have been learning all about Chinese New Year. We listened to and acted out the story of The Great Race and how the animals were chosen for the Chinese zodiac. We made lanterns, dragon masks and even tried some Chinese food.
Fire Engine Visit!
We were very lucky to receive a special visit from our local fire engine and fire fighters. We learnt to call 999 in an emergency and how to 'Stop, Drop and Roll' if we were ever in a fire. We all got to sit in the fire engine and use the hose. Some of us even tried on the fire fighter's helmet!
Fun in the snow!
This morning when we woke up it had snowed! Then, whilst we were at school it started to snow again so we got our coats and hats on and rushed outside to enjoy it.
Washing the cars
We made our own car wash and washed all the bikes and scooters. It was very expensive - it cost 5p to have your bike or scooter washed! We worked very hard and now all our bikes are sparkling and clean.
Car racing
We wanted to find out which slope would make the cars go the fastest so we raced our cars down the slopes. Before we found out the answer we had a guess which we thought would be best and we were right.
Car parks
We had to match the correct colour car to the right parking space and match the correct number cars to the right parking space. It was great fun.
Autumn 2 - Colour and Celebrations
Colourful Foods!
We had great fun making fruit pizzas with the reception children. We used brightly coloured fruits on the top of our pizza bases. We all thought they were yummy.
National Muddy Puddle Day!
We had a great time celebrating National Muddy Puddle Day. We went down the bumpy track at the side of school and splished and splashed in all the puddles. As said by one of our Tiny Treasures "It was the best day ever!"
Open Morning
We had an Open Morning and invited parents and children to visit our school to see if they would like to be in our Reception class next year. We had to tidy all the leaves in our playground ready and then show everyone how nicely we share and play with each other.
Everyone had a fantastic time and we shared with the little children and even let the mummies and daddies join in.
.
Remembrance
We've been learning a little bit about why we wear poppies. We have tried to draw and paint poppies and even had our hands painted to help make our very own poppy wreath for Remembrance day.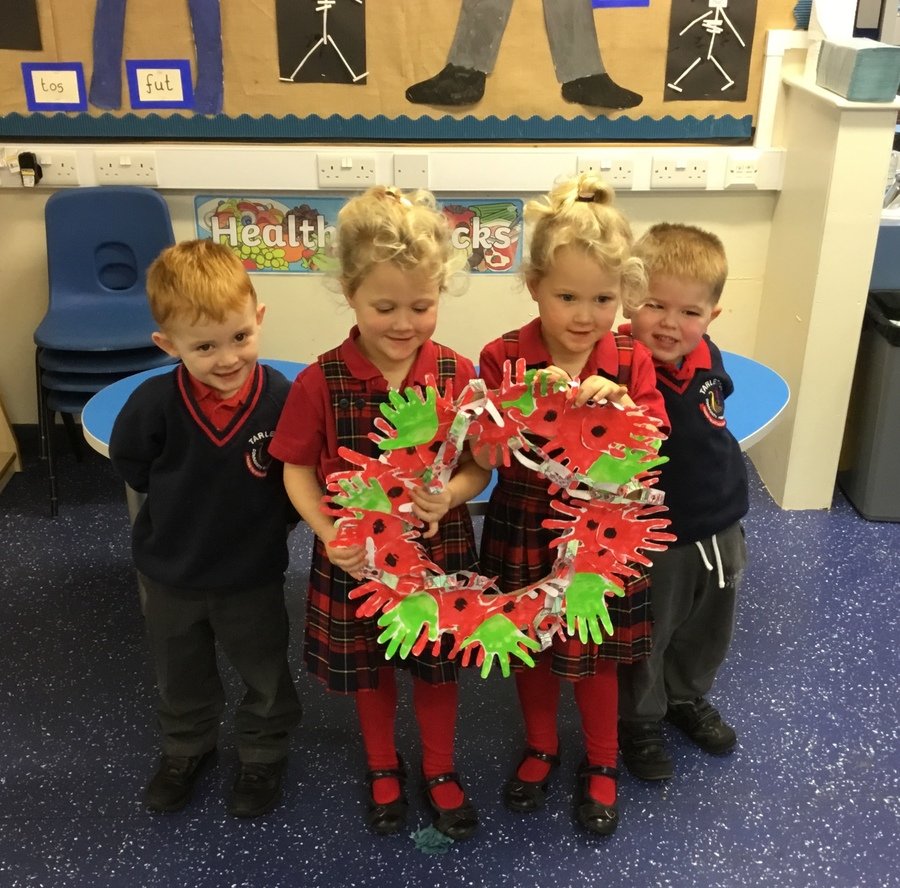 We've also been making delicious poppy biscuits - yum!
Countryfile Ramble
On Friday 19th October we went on our very own Countryfile Ramble. All the children from KS1 and EYFS took part in this annual event. Thank you to all the parents and grandparents who came to help. We will let you know how much money we managed to raise once we've collected it all in.
Parachute games!
We had great fun learning how to play parachute games with Mrs Rowcroft and Miss Radcliffe. Look at the smiles and the concentration on our faces.
Fun with play dough!
With a little help from our grown ups, we made play dough from scratch! It was a bit messy but great fun.