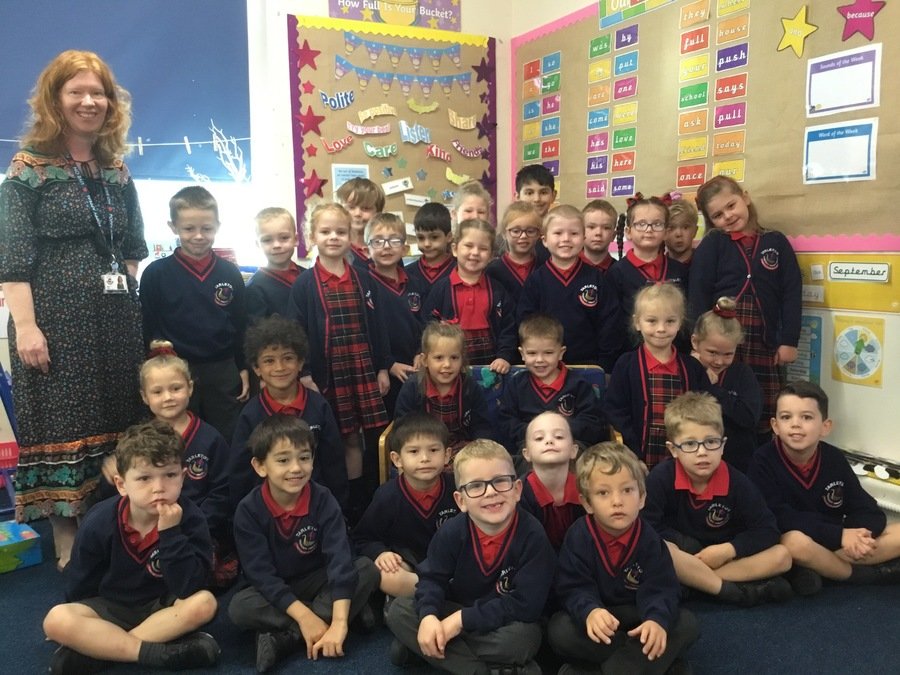 Welcome to Cellos Class!
We are a class of 30 enthusiastic and happy Year 1 and Year 2 Superheroes. We share our classroom with our teacher Mrs Marshall and Mrs Bridge, Mrs Pateman and Mrs Wren help us lots too.
We are pleased to be back at school learning and playing with all our friends.
Our PE lessons are on a Thursday and Friday so we need to come to school wearing our PE kits on these days.
On a Wednesday afternoon we are able to have Show and Tell to develop our speaking and listening skills. You can send photos via Dojo if you have something special or exciting to share with us all.
We are working hard on our reading and try to read a few pages of our books every night to earn Dojo points. When we have read our books we can change them independently.
This year we are looking forward to learning lots of new and exciting things.
Penguins, Possums and Pigs...
In English our work is based around the story 'Lost and Found' by Oliver Jeffers.
We enjoyed working as a team to build a boat to get the boy and the penguin to the South Pole.
We had fun hot seating the characters from 'Up and down' by Oliver Jeffers. We asked some brilliant questions and answered them well in role as the boy or the penguin.
In English we have been using Autumn to help improve our vocabulary and further develop our use of adjectives. It is helping us with our Finger Gym and our senses too. We performed Autumn poems, a few of the performances can be seen here. We have been enjoying writing fantastic Autumn poems. We even created hibernating hedgehogs out of conkers!
We enjoyed coming to school on Friday 9th October wearing yellow to support Hello Yellow Day. The day is aimed at fundraising for Young Minds and promoting World Mental Health Day. Here are lots of our photo booth photos, some crazier than others! During the day we passed a smile around the circle, played a special hello yellow bingo, designed a superhero character, discussed and learnt about resilience and had lots of fun being happy and smiling.
As part of our theme work we have made painted penguin pebbles. We are very proud of our penguins and think they look great brightening up our outdoor area.
We worked well as a team playing the hula hoop game. We all had to stand in a circle holding hands, then we had to pass 3 hoops around without letting go of hands. It was fun and tricky. (We used hand sanitiser before and after!)
We enjoy using our outdoor area in our learning as much as possible. In Maths we threw beanbags into hoops and counted how many we could get in the hoop and how many we missed.
More fun in the sun in our outdoor area.
We have been busy sorting animals according to their different features as part of our theme work. We worked really well in our groups, great team work!
We were really clever and sorted the animals into their different groups and learnt facts about each group. We know that there is a fish, bird, amphibian, mammal, reptile and insect group.
Enjoying playing Phonics games with our friends.
In PE we have been improving our fundamental movement skills. So far we have focused on our running, jumping and balancing skills. We wanted to show you some of our brilliant balances. We had a few wobbles but we did not give up. We came up with some creative and imaginative balances on our own and with a partner. Can you recognise us all in our funny balanced positions?
Our school participated in the 120 Minute challenge as part of the European day of sport. We all had to complete 120 minutes of physical activity during the day, wearing our own sports clothes. We had fun creating a dance for Goldilocks and the 3 bears, walking through the forest, creeping into the cottage, eating porridge, climbing stairs, falling asleep and especially chasing Goldilocks away!