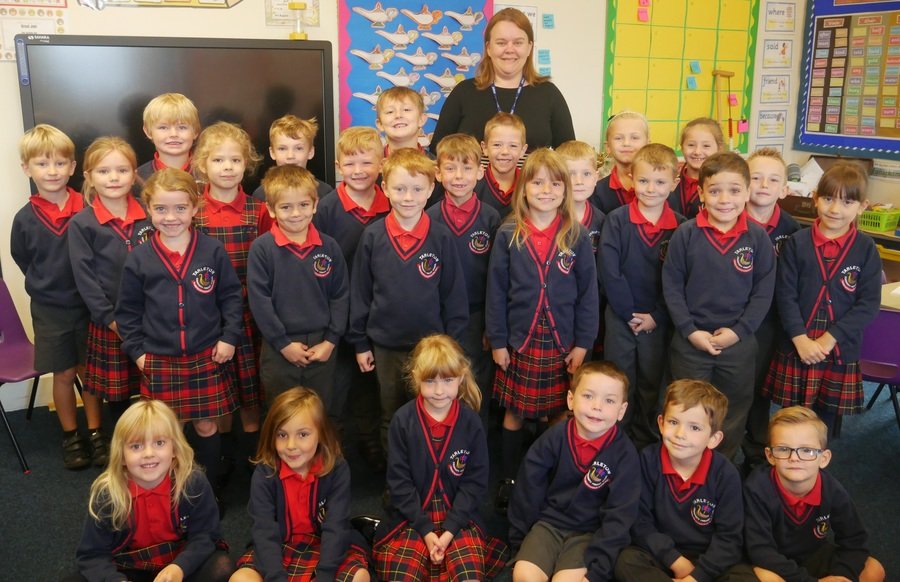 To find our key learning documents please click here.
To access our theme overview please click here.
Welcome to the Double Basses class!
We are a mixed class of 27 Year 1 and Year 2 children who enjoy every opportunity to work and play together. We share a classroom with Mrs Bruzzese, Mrs Wright and Milly the goldfish, who likes to watch us learn. Our P.E lessons are on Wednesday and Friday so we need to make sure that our P.E kit is in school on these days. On Thursday afternoon Mrs Bruzzese lends us to Mrs Wright and Mrs Bridge for the afternoon and we learn about ourselves and working together. As a part of our Thursday work we can bring something along for Show and Tell. We need to bring something which is important to us or special so that we can stand up and talk about it to our friends. This really helps us to practice our speaking and listening skills.
We try to read a few pages of our books every night so that we can become 'Super Readers!' and change our books ourselves when we have finished them. Our spelling and number homework is given out on a Friday and we have our spelling test on Friday morning each week.
We have an exciting year ahead and we look forward to learning lots of new things...
Today we had an exciting time learning all about staying safe on the Internet. We watched a fun video about Zap and Zoom, 2 alien friends who wanted to play a Space Race game together. We learned all about asking permission and who to ask if we are unsure. Please click below to watch the video link!
This half term out theme is all about plants and in particular trees. We have designed and built trees from recycled products to learn about the features of trees.
We learned about the importance of trees to our environment and imagined a world if all trees were plastic. We realised that we wouldn't have chocolate which came as a huge shock!

We planted trees on our school field to help the environment. The instructions we wrote showed how well we had listened to our lesson. Mrs Bruzzese was so proud of us all, and Mrs Wright!
We had an amazing time practicing and performing in our Christmas play. The play was called 'The Hopeless Camel' but she certainly wasn't hopeless.
We also had a great time at our party when Father Christmas came and brought us a new book for being good.
We began our challenge by learning about business from our 'Dragon' Rachel. She told us all about setting up a business and how we needed to work together to make money and do well.
We had a board meeting to discuss our plans. Next we created a name for our company, 'Snow Storm', as for our Enterprise challenge this year we designed snow globes. We chose 2 kinds of snow globes, 1 made from a recycled jar and 1 from a sandwich bag. We worked out that our costs were very low and so we would make lots of profit!
Our designs were super and we sold out at the fair!
We had an amazing time when we went through the wardrobe to Narnia! We had many special moments but these are some of our favourites!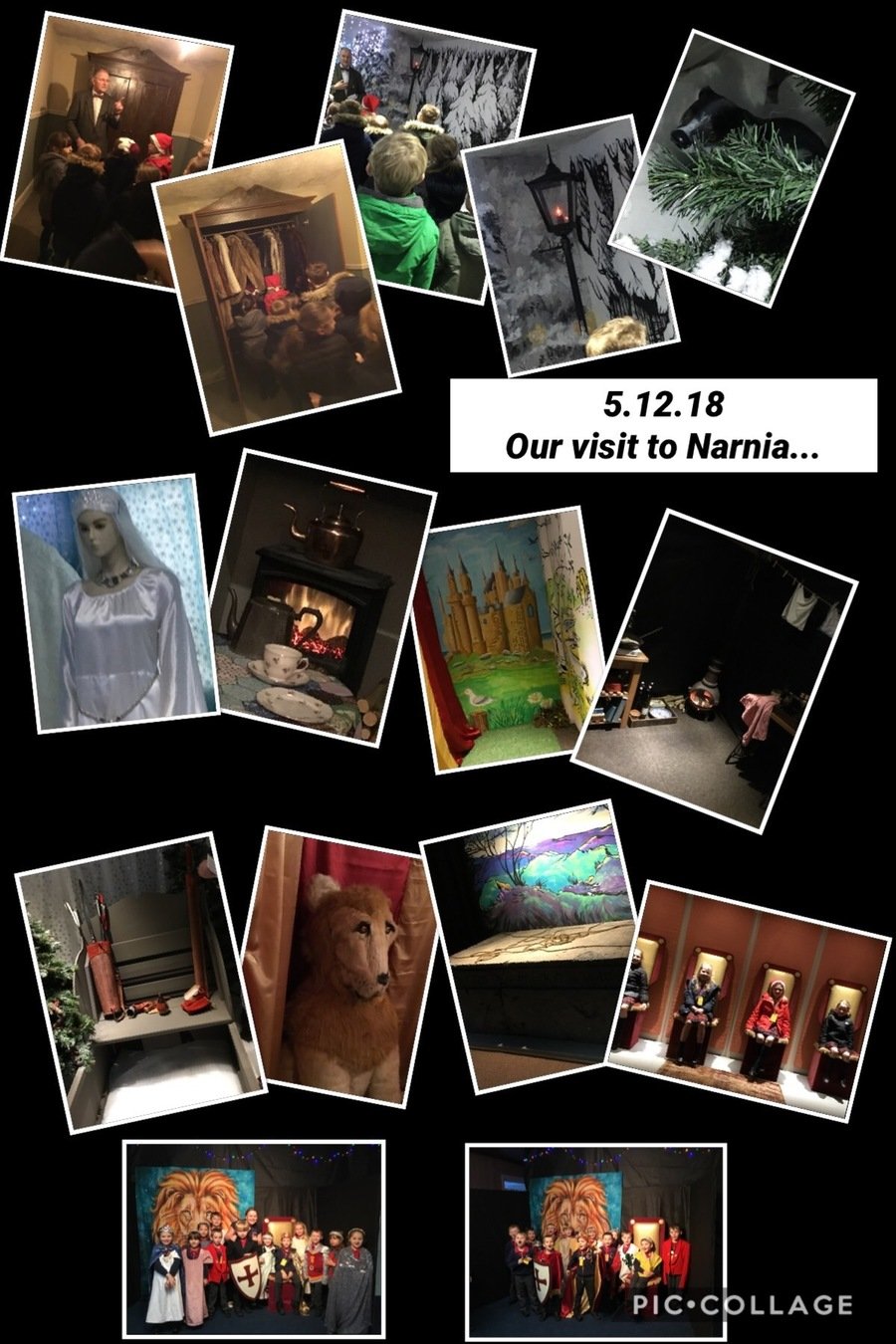 We have spent this week learning about the D-Day landings.
We learned lots of facts about D-Day through watching video clips, exploring websites and listening to visitors. We found the Newsround website particularly useful. This is the link in case you would like to find out more.
http://news.bbc.co.uk/cbbcnews/hi/find_out/guides/world/d-day_/newsid_3754000/3754731.stm
We had an important visitor, Mr Turner, who told us all about growing up during the war.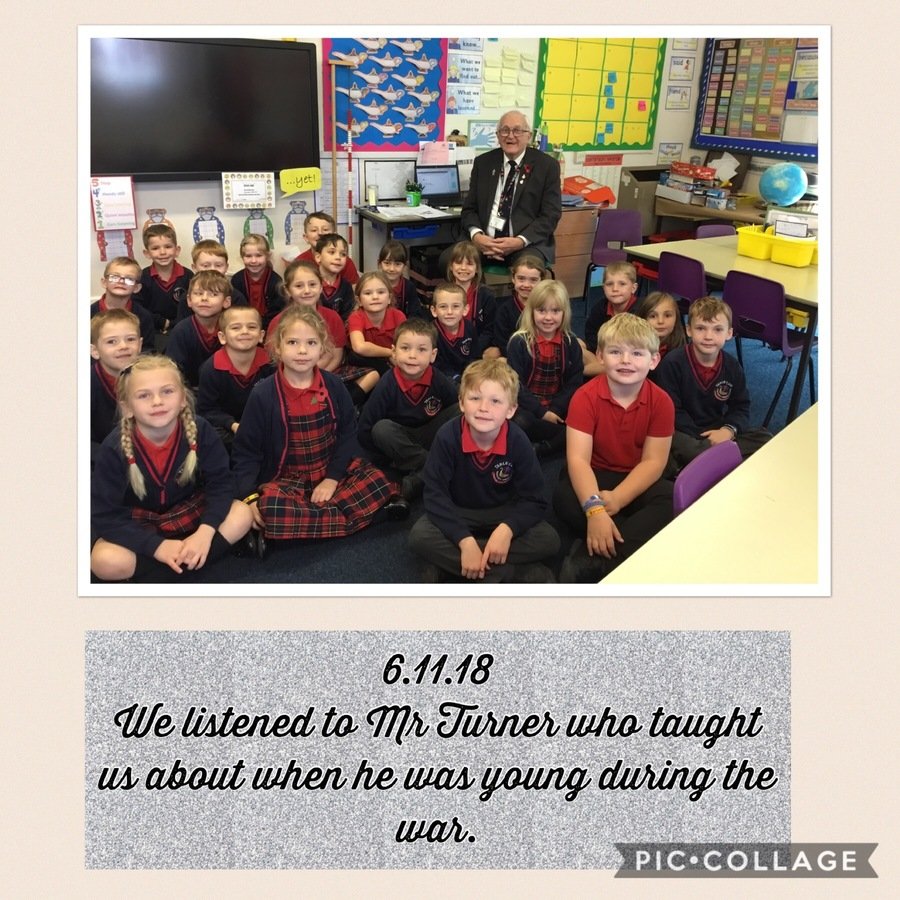 We were lucky to be chosen to lead the Remembrance service for our school and our families. We were wonderful! Mrs Bruzzese and Mrs Wright were very proud of how clearly we spoke. We told everyone about D-Day and how we would feel to be a soldier. We even wrote letters to soldiers to thank them for taking care of us. Our assembly was ended by Tom, from Tarleton Academy, who played the last post for us. We felt very proud of ourselves!
Learning about 3D and 2D shape...
We have been learning about 3D shapes and their properties. It was fun to explore the shapes and try to build them using playdough and k-nex!
Learning about Hanukkah...
This week we have been learning about Hanukkah and the story of King Antiochus and Judah Maccabee. We all made a Dreidel and played this traditional Hanukkah game. It was great fun and Bryony was our champion!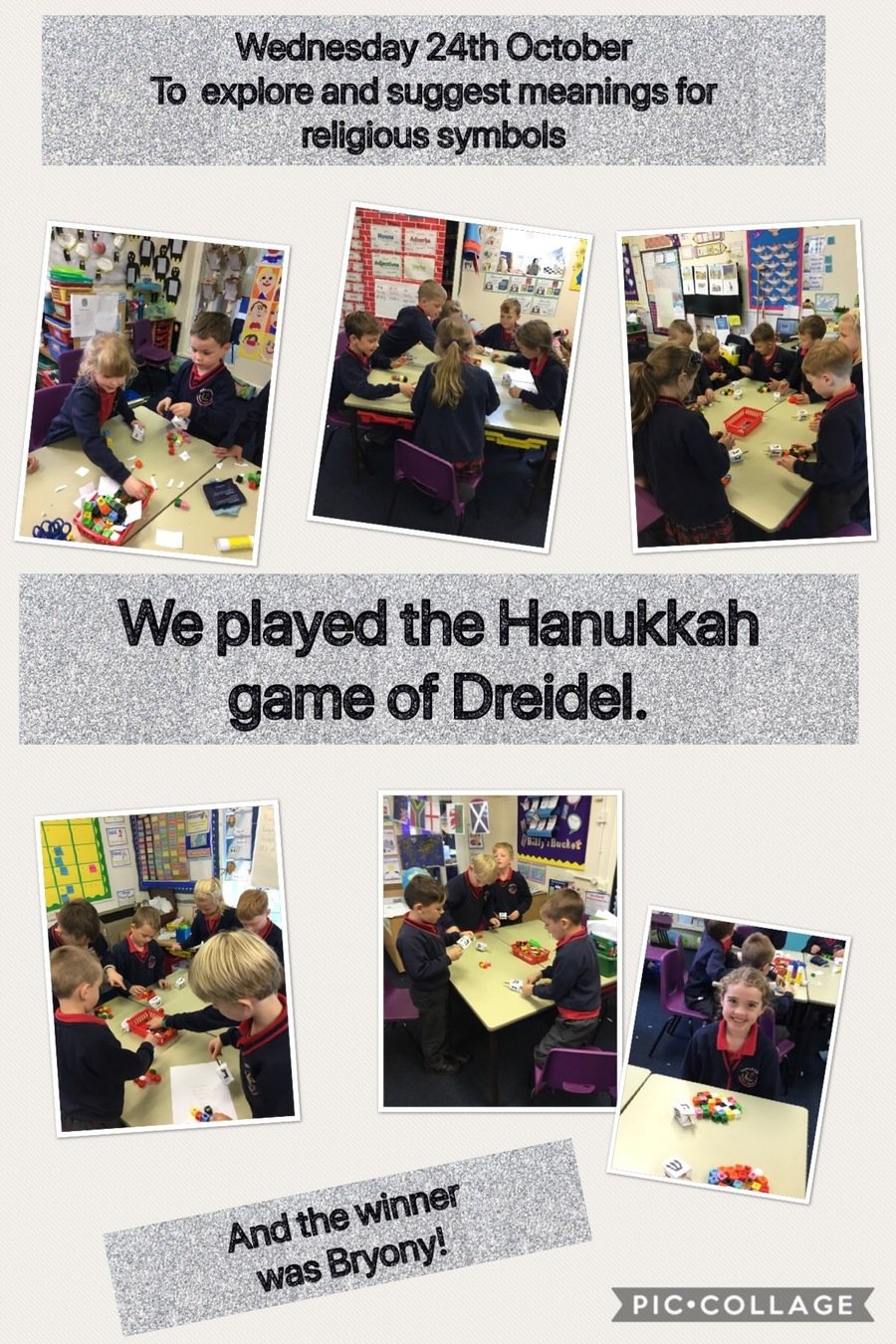 This week we have been learning about art. We learned how to make marks with different media and drew lines of different thickness and tones. We then used our skills to create images of penguins in different poses, some sliding, some standing and some which were looking in different directions. This helped us to create our salt dough models of penguins. We learned how to use water colour paint, especially how to make it lighter and darker by adding water. We finished off our work by painting our penguins with acrylic paint. We are very pleased with how they turned out!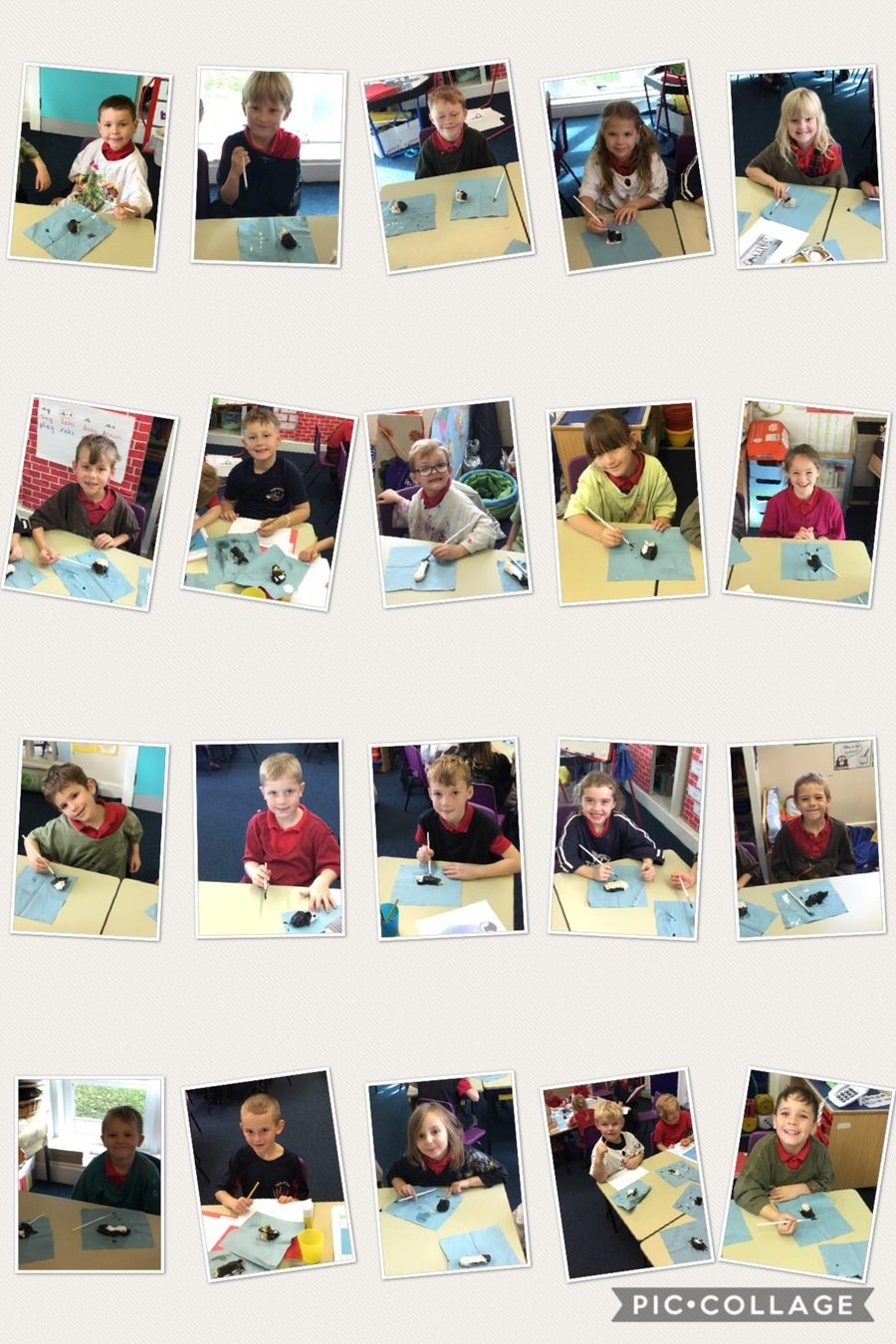 We went outside to find out all about how the world changes in Autumn. We found out that the leaves change to red, orange, yellow and brown and fall off some of the trees. We even found some mushrooms!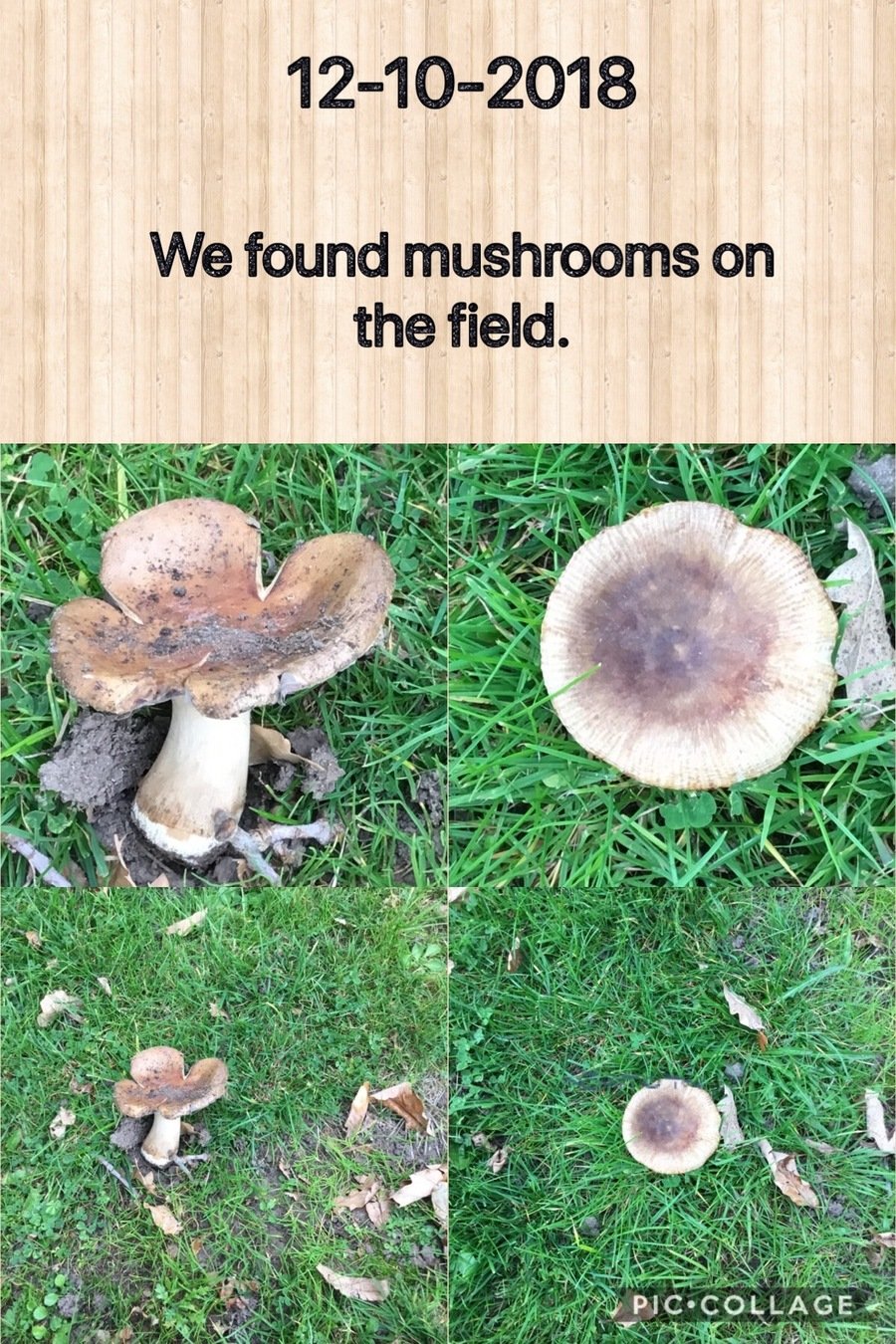 Autumn 1 Theme - Penguins, Possums and Pigs...
This half term we will be learning about animals, the seven continents and five oceans and lots of art work. We are going to visit Blackpool Zoo to learn about animals- we really can't wait!
We have been learning all about animal body parts. As a part of our work we created animals using playdough which we described and labelled. We hope you like our creations!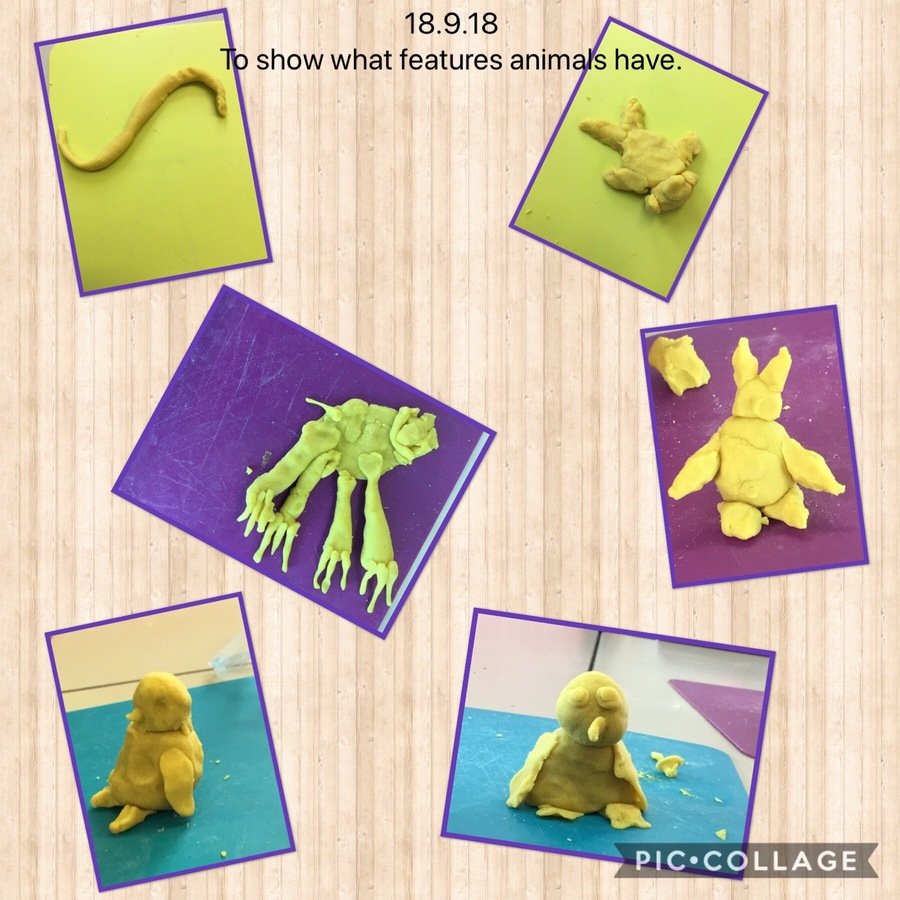 We have sorted animals using different criteria including by what they eat. We have learned that some animals are carnivores, some are herbivores and some are omnivores. We linked our Science learning to Maths and Year 1 created a Venn diagram to show what we have learned.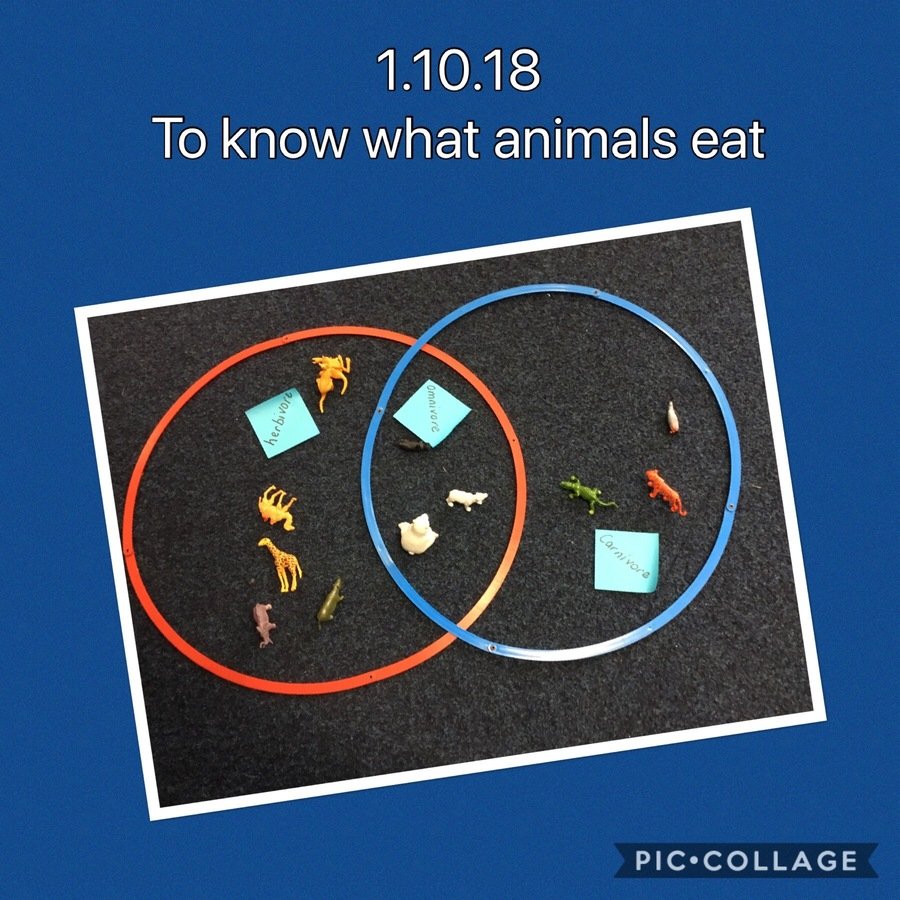 Learning to write letters using our new school handwriting...
We have begun to follow a new handwriting scheme which teaches us to form cursive or joined up letters. It is called Letter-Join and we really enjoy our daily handwriting. Look at us learning to write the letter 'c'!
Writing non-fiction texts...
We have been learning facts about an animal and have now become experts in Penguins, Possums and Pigs. Today we used our knowledge to create a fact sheet written on our chosen animal. We are so proud of our work that we wanted to show you all! We hope you like it!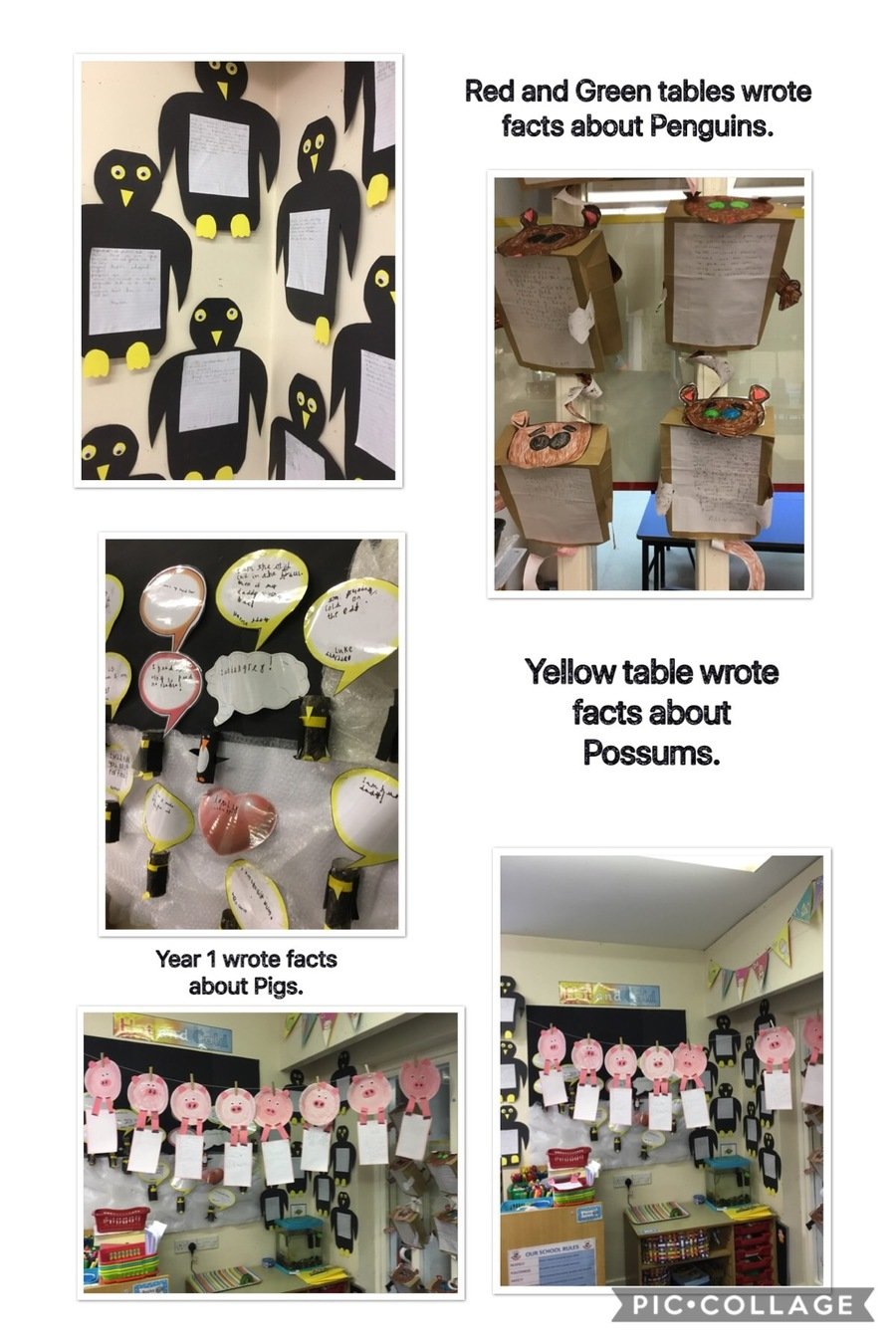 Our Visit To Blackpool Zoo...
We visited Blackpool Zoo to learn more about the animals that we have been learning about.
We saw lots of amazing animals and found out more about some of the animals in our work.
During our visit we had a lesson called Penguins, Possums, Pigs and Puffy where we got to show just how much we had learned. The lady teaching us was very surprised when she asked what we knew and some of our facts included ' There are 23 species of Possum in Australia' and 'Pigs have small lungs!' She thought that we were very clever indeed and Mrs Bruzzese was incredibly proud of us all!