Welcome to Double Basses!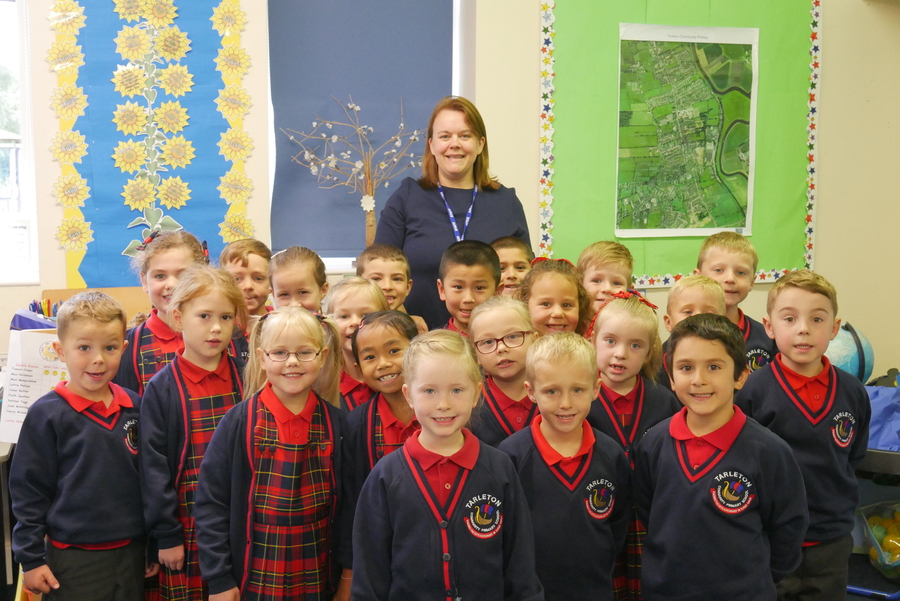 Our teacher this year is Mrs. Bruzzese and we are lucky to have Mrs. Wright every morning to help us learn. We are very proud of our new uniform, we hope you think that we look smart!
We have 30 friends to learn with and we really enjoy be creative and sharing our best work with every one. In Double Basses we enjoy opportunities to explore our themes through role play, singing and painting as well as our fantastic writing!
This year we will be learning lots of exciting things! This year we will be learning how to become independent and all about positive thinking and growth mindset. We like to link our Literacy and Guided Reading work with our themes and are really looking forward to creating some amazing work! There will be lots more to come!
We really like to read to people and love opportunities to practise at home with our parents, grandparents, aunties, uncles, in fact any body who will listen and enjoy our reading! We have fun playing games on the Learnpads to help us become mathematical geniuses!
We need our P.E. kits in school on Monday and Wednesday. On Thursday afternoon Mrs. Bruzzese lends us to Mrs. Wright and Mrs. Bridge to help us learn about the weather and have fun practicing our speaking and listening skills with Show and Tell.
We are a very enthusiastic class and we're looking forward to a very exciting year!
We had a fun time at our Christmas party to celebrate all our hard work.
Father Christmas brought us a present! It was a space station play mat, which was very clever of Father Christmas as we will be learning about a famous astronaut after the holidays! We can't wait to play with it.
Making Clay models of people
We learned about the work of Keith Haring. We looked at his designs and recreated our own work in his style using the computers. We learned to draw people and used different media to create body shapes. Our favourite was the water colour paints which we also used to practise colour mixing with primary colours.
We practised rolling clay lots of times and then used our skills to create body shapes. We discovered that next time we need to learn how to join pieces together better to stop body parts falling off!
Our Enterprise week began with a visit from our 'Dragon' Sara Brookes. She told us all about her company and how she set up Jollie's Barn. Lots of us really enjoy visiting Jollie's Barn so we were excited to see photos of the building while it was being created. Sara taught us about logos, posters, leaflet design and how important it was to choose the name of our company carefully.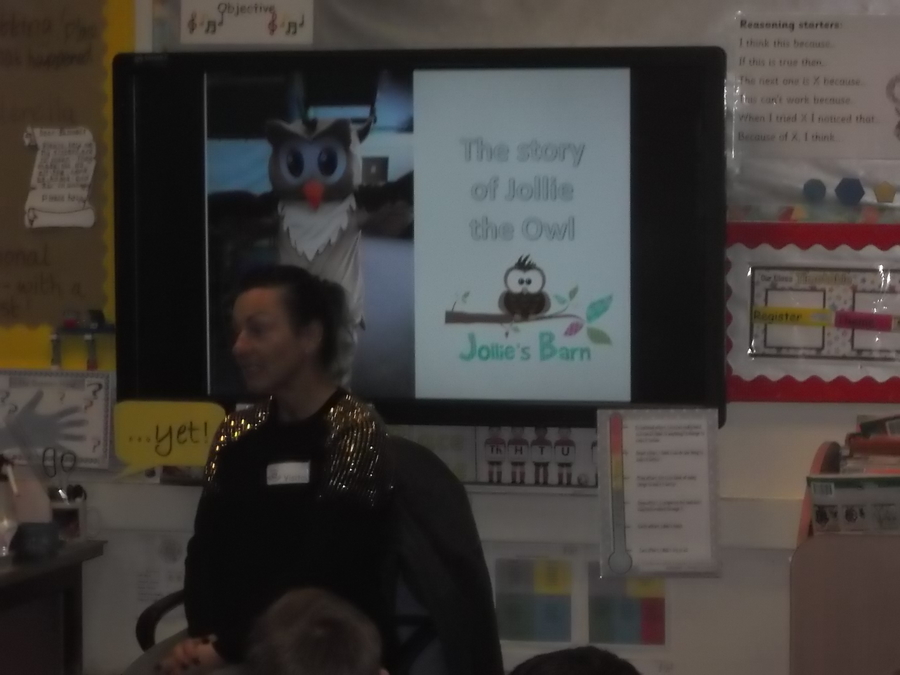 Then we had a board meeting to decide our company name and design our logo. We had some great ideas and eventually decided on the name 'Festive Fancies'. All our logos were very creative but Mrs Bruzzese chose Joe's design to become our company logo. We used the design to make posters, leaflets and badges. We had a lot of fun!
We looked at lots of ideas for what we wanted to create and finally, after a lot of discussion, chose to make melted snowmen biscuits and reindeer poo jars! We began to work out how much things would cost and how much to sell our products for. We enjoyed thinking about all the 'real' money we would make!
We created the reindeer poo jars with Mrs Wright's help. We enjoyed adding the googly eyes and pom pom noses! Mrs Wright helped us with the hot glue gun to make everything strong!
After that we created the melted snowman biscuits and wrapped them in cellophane to keep them clean at the fair.
After all our hard work Mrs Bruzzese thought we deserved a treat so we tried our melted snowman biscuits- just to check that they were good enough to sell obviously! We all enjoyed them and couldn't wait to sell them at the fair.
Some of us volunteered to be shop keepers at the fair, which was very exciting as we'd practised working in a shop in our fruit and vegetable shop role play area. This time we collected 'real' money and gave change. Mrs Bruzzese was super proud of us all!
On Monday we started our new theme with a visit from Mrs Taylor to speak to us about her fruit and vegetable business. We have created a fruit and vegetable shop in our classroom and can play in it now we are experts! Thank you Mrs Taylor!
Today we have had so much fun learning about how our teeth help us to eat our food and how to clean them properly. We started by building a set of teeth from white Lego bricks. We made sure they were strong with no wobbly ones! Then Mrs Bruzzese gave us a piece of biscuit and we 'chewed' it up with our partner. It was so much fun! We then realised that our mouth was wet so we added water to our biscuit and 'chewed' it again. It was getting very messy! We noticed that the biscuit stuck into all the lumps, bumps and spaces in our Lego teeth so we needed to clean them. We got toothbrushes and water and cleaned all the biscuit away. We have decided that we need to spend longer cleaning our teeth in future to get rid of all the food and dirt from our teeth. We learned a lot and had a great time. Look at the photos of us trying to 'eat' our biscuits...
This week we have had an exciting time learning all about Remembrance day, poppies and most of all what it would have been like to be evacuated in WW2. We read a story about a girl called Sarah and her brother, Joe, who were evacuated to the countryside during the war. Sarah lost her favourite teddy, Bramble, who was very special to her. We thought about our favourite toys and even brought one to school! We learned about how children lived during WW2 and how they, and their parents, felt about evacuation. On Thursday and Friday we came to school dressed as evacuees and took part in some role play activities, where we pretended to be evacuated and wrote letters and postcards home to our parents.
On Friday we were lucky enough to be invited to do the school assembly of Remembrance for parents, children and staff. We spoke clearly about everything we had learned and listened to the Last Post played by one of TCP's past pupils. We were absolutely wonderful and everybody told us we were amazing! We felt very proud.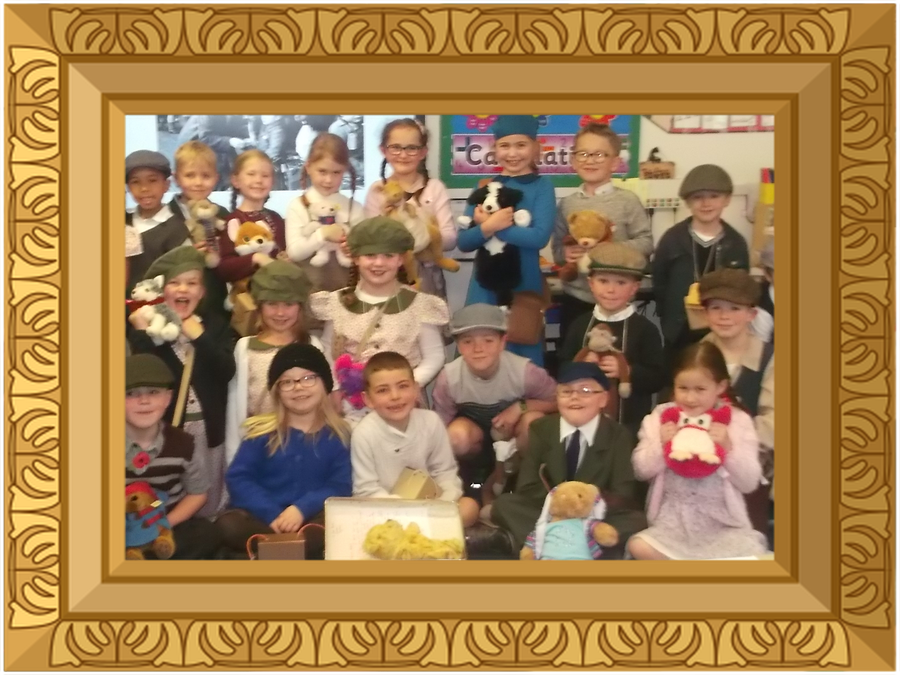 The Place Where I Live...
This term we will be exploring our local area to find out all about where we live.
We have been on a walk around the village to visit Carr Lane playground to create some amazing art work and maps! We are very excited to get out and about to see the wonderful place where we live and learn.
We are starting our Literacy work by focusing on the story of The Jolly Postman by Alan Ahlberg.
We were very creative when we made collage pictures of the character's houses which look amazing on our display. We have been reading about the characters in the story and have written some letters and postcards to the Postman. We have been visited by our own Jolly Postman to teach us all about his important job and how to play in our Post Office. We can't wait!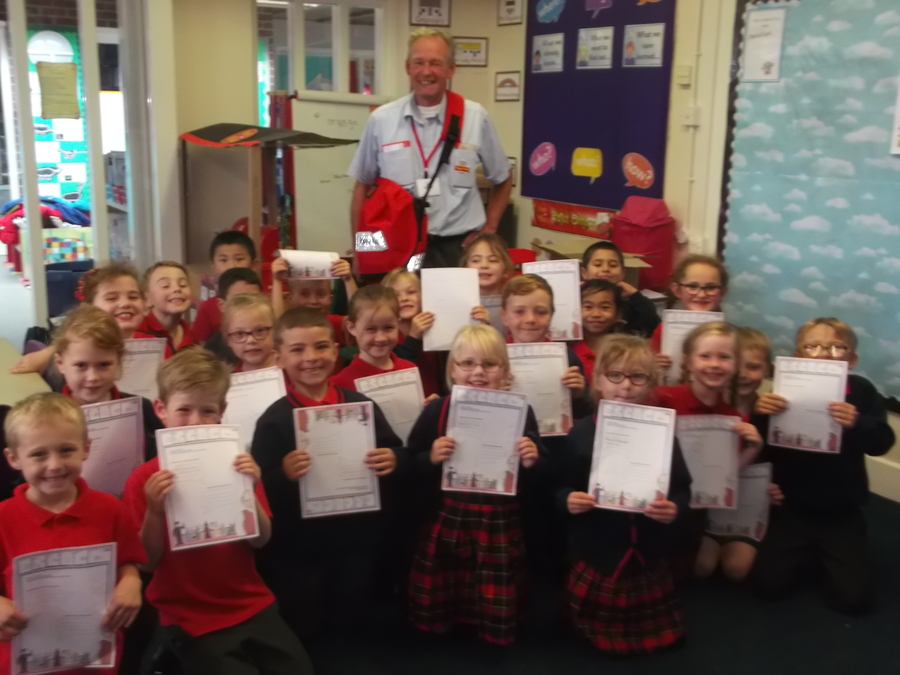 Outdoor Learning Day 2017
We had lots of fun on Thursday when we visited the EYFS outdoor play area to take part in Outdoor Learning Day 2017! We explored the mud kitchen, the building site and lots more. All of us learned a lot about working together and team work. We were really lucky that the rain stopped just in time for our visit.
We have been map detectives!
This half term we have been learning about maps and aerial photographs. We have used a great computer map program called Digimap where we zoomed into our school from space! We really enjoyed finding out about where we live!
We have been learning all about our school long ago. We wrote and asked lots of questions and were lucky that our teacher, Mrs Bruzzese, has been here a long time!
We also had a visit from Mrs Perry, who used to work at our school, to talk to us about what school was like in the past. It was a lovely to see her again and Mrs Perry worked very hard to answer all of our questions!
Mrs Bruzzese asked us a question at the start of the school year, 'Is Maths fun?' No one answered 'Yes!' (except for Mrs Bruzzese!) so she set us all a challenge that by half term we would change our mindset.
As we've been learning about having a fixed or a growth mindset we all decided to accept the challenge. We've now changed our minds- 'Maths is Fun!' Look at all the fun we've had learning about shapes, measuring, numbers, adding and subtracting!
What we will be learning to do this year?
| Name | |
| --- | --- |
| Key Learning in Art and Design Years 1 and 2.doc | Download |
| Key Learning Computing Years 1 and 2.docx | Download |
| Key Learning in Design and Technology in Years 1 and 2.docx.doc | Download |
| Key Learning in Reading in Year 2.docx | Download |
| Key Learning in Writing in Year 2.docx | Download |
| Key Learning in Geography Years 1 and 2.doc | Download |
| Key Learning in History in Years 1 and 2.doc | Download |
| Key Learning in Mathematics - Year 2.docx | Download |
| Key Learning in Music Years 1 and 2.doc | Download |
| Key Learning in Physical Education - Years 1 and 2.docx | Download |